Introduction
Potato occupies an important place in world food security. It ranks as the first food crop after major cereals, and the fourth in yield volume after wheat, corn, and rice [1]. Potato is also considered an important food source of carbohydrates in developing countries due to its low production costs [2].
Soil humidity is one of the most important factors in tuber yield and quality [3]. Potato sensitivity to water stress depends on its growth stage [4], and the tuber formation stage is the most sensitive. Water stress reduces vegetative area [5] and photosynthesis rate [6], which in turn delay tuber formation [7] and decrease tuber number and yield [8]. The adverse effect of water stress is attributed to the accumulation of reactive oxygen species (ROS), which causes protein degradation, lipids oxidation, destruction of plasma membranes, pigments bleaching [9], and modification of antioxidant enzymes activity [10].
The relative water content, leaf temperature, stomata conductance, and transpiration rate are important indicators that reflect the water relations in plants [11]. The release of water vapor in transpiration regulates the temperature of the plant's aerial parts and helps in reducing the heat generated by light absorption [12]. Various studies highlighted the importance of the vegetative surface temperature and its association with the productivity of several crops under water stress [13][14]. Additionally, the occurrence of electrolyte leakage in water stress causes an irreversible loss of potassium by the plant during the stress response [15].
Chlorocholinechloride (CCC) ClCH2CH2N+(CH3)3.Cl (commercially known as Cycocel) is a plant growth regulator that inhibits gibberellin synthesis [16]. CCC affects plant height, leaf number, leaf surface index, plant dry weight, chlorophyll activity, photosynthetic components, and mineral uptake, in addition to amino acid and protein contents [17]. It also regulates stomatal conductance and reduces transpiration, which increases the relative water content and water use efficiency [18]. Furthermore, CCC increases the chloroplasts' number in addition to chlorophyll and carotenoid content and improves photosynthesis efficiency [19]. It is worth mentioning that CCC treatment increased the stomata resistance and chlorophyll content of potato plants exposed to water stress conditions [20].
Salicylic Acid [(SA) (C7H6O3)] is an endogenous plant hormone and a non-antioxidant enzyme [21]. Many Studies indicate that SA can be used to mitigate the negative effect of drought on plants by controlling stomata closure, maintaining chlorophyll content, increasing water use efficiency, and stimulating root growth [22][23]. Additionally, SA can improve relative water content and reduce electrolyte leakage in tomato plants subjected to drought stress [24].
Humic Acid (HA) is a complicated natural organic compound [25] that is proven to increase the yield and quality of many economic crops [26], including potatoes [27]. Additionally, humic acid improves plant resistance to drought stress [28] by increasing the activity of hormones and enzymes [29]. Previous results showed that HA treatment increases plant growth, photosynthesis, and antioxidant metabolism under water stress conditions [31].
In Syria, low soil humidity resulting from the unbalanced distribution of rainfall and limited irrigation resources reduces potato yield. Therefore, this study aimed to inspect the potentials of cycocel, salicylic acid, and humic acid application in alleviating the adverse drought stress effects and enhancing water use efficiency in potatoes.
Material and Methods
Cultivation and experimental treatments
This study was carried out at Lattakia Agriculture Research Center during the spring season of 2020-2021 at Al-Hanadi Research Station. In order to control water input in the experimental field, a metal structure with a polyethylene cover was used (Fig. 1). Soil analysis showed that it had a loamy sandy texture with adequate organic matter, high phosphorus, and average potassium contents (Table 1). 'Spunta' potato tubers were planted manually in the field at a depth of 10 cm with 30×70 cm distances between the plants within the line and between the lines, respectively.
The field capacity was estimated and calculated in the laboratory by weighing 2 kg of soil (W1) in a pot of known weight, which was irrigated with one liter of water. After 24 hours, the soil of the pot was weighed again (W2). The amount of water remaining in the soil was considered as the amount needed to achieve a field capacity of 100% by weight of the soil. field capacity (FC%) was then calculated according to the formula: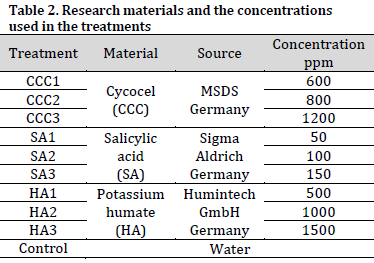 Fertilizers were applied based on the soil analysis results (Table 1), and according to the Ministry of Agriculture recommendation for potato fertilizing (370 kg ha-1 of urea and 240 kg ha-1 of potassium sulfate) [31].
The plants were irrigated uniformly after planting until complete germination (One month after planting). After germination, irrigations were applied until 40% of the soil field capacity was reached.
For the experimental treatments, three concentrations of cycocel (600, 800, and 1200 ppm), salicylic acid (50, 100, and 150 ppm), and humic acid (potassium humate C9H8K2O4: 500,1000,1500 ppm) were prepared in water (Table 2). Potato plants were sprayed with the prepared solutions after 35 days of planting (tuber imitation stage) at ten days intervals three times.
Studied characteristics
Leaf temperature
The leaf temperature was measured using an infrared thermometer (Evenntek E300).
Relative water content (RWC%)
The relative water content (RWC%) was estimated according to [32] by taking five fresh leaves and weighing them directly (fresh weight). Then, the leaves were immersed in distilled water for 24 hours (in a dark place). The weight was measured again (weight at fullness). The leaves were then dried again at a temperature of 80 °C until a constant weight (dry weight) was achieved. The relative water content was then calculated according to the formula:

Electrolytic leakage (EL%)
Electrolytic leakage was estimated by cutting several plant leaves into equal sections and placing them in test tubes with distilled water. The tubes were left in the laboratory temperature for 24 hours. Then, the electrical conductivity of the leaf solution (EC1) was measured using an electrical conductivity device (Thermo Orion- Benchtop Conductivity Meter-Model 162A). After that, the tubes were placed in a water bath at 100 °C for 60 minutes. Then, the second electrical conductivity reading (EC2) was taken. The EL% owing to damaged cells under water stress conditions was estimated according to [15].

Water use efficiency (WUE)
Water use efficiency refers to the amount of dry matter produced by a consumed water unit by evaporation, transpiration, and the amount of water used in plant tissue building [33]. The water use efficiency of potato plants was estimated using the following formula [34]:

Where
WUE: Water use efficiency (kg m-3)
P: Yield per planted area unit (kg ha)
W: The amount of consumed irrigation water per area unit (m3 ha)
Statistical analysis
The experiment was conducted in a completely randomized design. In total, 280 potato plants with 42 plants and three blocks (14 plants per block) in each treatment were used. The resulting data were analyzed using COSTAT software and the differences between means were compared using Duncan's test at p<0.05 [35].
Results
Leaf heat
The results showed that SA and HA treatments significantly reduced the leaf temperature compared with the control plants under water stress. The lowest leaf temperature was observed in HA3 at 30.24 °C. On the other hand, the highest temperature measurements were in CCC-treated plants, with CCC2, recording the highest temperature (38.68) followed by CCC1 (37.8 °C) and CCC3 (37.5 °C). It is worth noting that both CCC1 and CCC2 reads were significantly higher than the control (Fig. 2 A).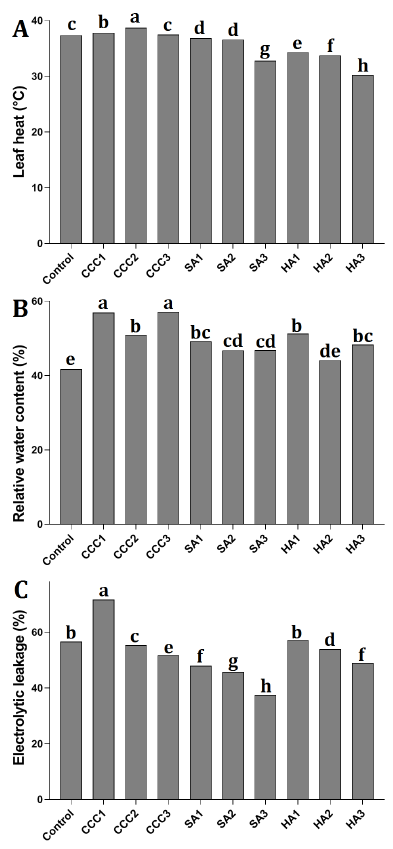 Relative Water Content (RWC)
All treatments recorded higher RWC values compared to the control (Fig. 2 B). This increase in RWC was more pronounced in CCC treatments, as CCC1, CCC2, and CCC3 recorded 56.34, 50.49, and 57.11% higher than the control, respectively. This increase in RWC compared with the control was also decent in HA and SA treatments; however, it was not significant in HA2.
Electrolytic leakage (EL)
All SA treatments resulted in a significant decrease in EL compared with to control, with SA3 treatment recording the lowest EL (37.45%). On the other hand, only higher CCC and HA levels (CCC2, CCC3, HA2, and HA3) recorded lower EL values compared with the control. It was also noted that CCC1 had the highest EL value with 71.69% (Fig. 2 C).
Water Use Efficiency (WUE)
Few treatments resulted in an increase in tuber yield per hectare compared to the control (CC1, CC3, SA1, and SA2). Among these treatments, SA1 was the most superior with 19.6 tonne ha-1. On the other hand, HA treatments appeared to have negative effects on tuber yield, with HA3 scoring the lowest among all treatments (13.8 tonne ha-1) (Table 3).
Similarly, SA1 scored the highest WUE value (14.74%) followed by SA2 (13.78%), while HA treatments scored the lowest values with HA3 being the lowest among all treatments (10.09%).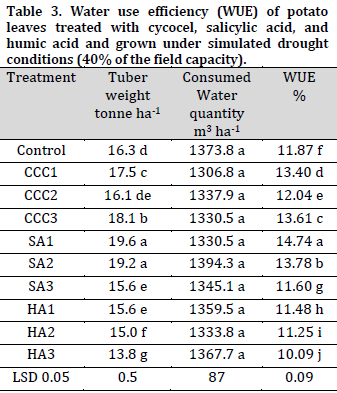 Discussion
Drought-tolerant potato cultivars, such 'Spunta', are characterized by higher relative water content, stomatal transmission, and photosynthetic rate, in addition to increased root system elongation and tubers content of carbohydrates compared to drought-sensitive cultivars [36]. Other studies showed that the high stomatal conductance and relative water content in leaf tissues in tolerant crops under water stress conditions may be attributed to increased water absorption efficiency from the soil or other adaptive ways [37].
The currently observed decreased relative water content in the control leaves was associated with an increase in electrolytic leakage rate. The increase in electrolytic leakage under low soil humidity may be mainly due to the influx of potassium ions, in order to adapt to stress conditions [38]. The accumulation of free radicals reduces membrane stability and increases its permeability [39]. Thereafter, these radicals activate potassium influx channels [40]. The current results agree with previous reports of higher electrolytic leakage in okra [41] and potato [42] plants exposed to water stress.
Plant growth inhibitors reduce leaf area, which contributes to the reduction of transpiration rate [43]. Although CCC treatments did not reduce the temperature of stressed potato leaves in the current study, a significant increase in relative water content and a decrease in electrolyte leakage were observed in CCC-treated plants compared with the control. This observation may be attributed to CCC role in regulating stomata conductance, which reduces the rate of transpiration and gas exchanges, maintaining the relative water content in the leaf tissue [44]. Similar works highlighted the role of CCC in reducing the transpiration rate, which results in an increase in water use efficiency, in addition to its effect in increasing root growth due to an increase in indole acetic acid (IAA) production [22].
As for SA treatment, a noticeable increase in relative water content in addition to the reduction in leaf temperature and electrolytic leakage was observed. This observation may be attributed to the effect of SA in closing stomata, maintaining chlorophyll content, increasing water use efficiency, and stimulating root growth [22]. Furthermore, salicylic acid protects the cell membrane and proteins syntheses by mitigating oxidative stress damage [45][46][47][48]. Similar to previous reports in beans and artichokes [21][48], the current results showed that SA treatment can increase the relative water content in potato leaves. The results are also consistent with [41] as electrolytic leakage declined in SA-treated okra leaves compared to untreated plants.
The positive effect of potassium humate in improving the physical indicators of stressed potato plants is due to it being a rich source of minerals, especially potassium which regulates the opening and closing mechanism of stomata [49] preventing water vapor exit under water stress, which leads to an increase relative water content. Also, it is known that humic acid increases the cell membrane permeability, mineral elements absorption, chlorophyll pigments activation, and formation, and the sugars and amino acids syntheses [50] that prevent the lipids oxidation in cell membranes and increase antioxidants. Therefore, all these positive effects of HA lead to a decrease in electrolyte leakage in stressed plants (similar to the current HA2 and HA3 treatments). These results are consistent with previous reports where HA treatment increased relative water content and decreased electrolyte leakage in leaves [51].
Plants developed a physiological system to raise water use efficiency by decreasing water loss in respiration and maintaining leaf water content by controlling stomatal conductance, leaves number, and area [52]. However, these responses reduce the photosynthetic rate [53]. Similar to many other plants, water stress decreases respiration and photosynthesis in potatoes, which increases water use efficiency [54][55][56]. The current results further showed an increase in water use efficiency in CCC- and SA-treated plants. CCC is proven to stimulate root growth and limit evaporation and increases water use efficiency [45]. SA on the other hand induces stomata closing and increases CO2 percentage, chlorophyll content, and relative water content in cells [57]. Additionally, SA enhances photosynthesis [58] and photosynthesis products transporting [59], which justifies the currently observed high water use efficiency results under SA treatment. These results are in line with those previously seen in potatoes [60].
Conclusion
The treatment with CCC, SA, and HA improved water stress resistance characteristics in potatoes. Cycocel was the most efficient in increasing relative water content at 1200 ppm concentration. Furthermore, salicylic acid at 50 ppm concentration increased relative water content, water use efficiency, and electrolytic leakage in stressed plants.