Introduction
Papaya (Carica papaya L.) is a tropical and subtropical fruit plant belonging to the family Caricaceae, which is native to southern Mexico and South America [1]. The global production of papaya fruit in 2020 reached 13.9 million tons. The major papaya-producing countries are India, the Dominican, Brazil, Mexico, Indonesia, and Nigeria [2]. Many studies have found that papaya seeds, leaves, and fruits can help prevent arthritis, lower cholesterol, slow aging, reduce the risk of cardiovascular diseases, assist weight loss, and aid digestion [3][4].
Papaya plants reproduce mainly by seeds. This traditional method leads to genetic variation and the production of seedlings that are not true-to-type and susceptible to viral infections. Several hybrid papaya cultivars were produced to obtain F1 plants with desirable fruit size, quality, and pest resistance [5]. Nevertheless, the F2 plants show genetic differences that lead to a loss of productivity and quality standards. Therefore, vegetative propagation of papaya using the tissue culture technique is necessary to preserve genetic assets and hybrid cultivars [6].
Many researchers have emphasized the significance of the source and differentiation stage of the explants employed in multiplication for successful establishment in vitro [7-10]. The immature or less differentiated explants are the easiest and fastest to initiate cell division [11]. This observation could be attributed to the high activity of these tissues and the high levels of endogenous hormones [12]. Many researchers have also indicated the possibility of optimizing the tissue culture workflows by selecting appropriate explants such as leaves, petioles, cotyledonary leaves, shoot tips, buds, embryos, and roots [8][13-15].
Many studies [6][16-22] investigated the shoot generation potentials of various explant types of papaya cultivars on culture media supplemented with various growth regulators. In this context, this research investigates in vitro growth behavior for different types of explants (shoot tips, nodule stem segments, internode segments, young leaves, petioles, and floral buds) of 'Red Lady' hybrid papaya cultivar.
Material and Methods
Tissue culture
The experiment was conducted in the tissue culture laboratory of Fadak Company for Animal and Plant Production in Al-Basrah governorate, Iraq. The explants were obtained from two-month seedlings of hybrid papaya cv. 'Red Lady' (Shoot tips, stem nodules, internode, young leaves, and petioles). Floral buds were also obtained from six-month seedlings.
Surface disinfection was accomplished by washing the explants with distilled water three times and immersing them in mercury chloride (HgCl2) 0.01% with three drops of Tween 20 for 10 min. After that, the explants were washed well with distilled water three times.
The culture medium was prepared with 4.43 gL-1 Murashige and Skoog (MS) salts [23] and vitamins (Caisson Labs Company, USA), 0.5 mg L-1 benzyl adenine (BA), 0.1 mg L-1 Naphthaleneacetic acid (NAA), 30 g L-1 Sucrose, and 8 g L-1 agar (HIMEDIA Company, India). The prepared MS medium was poured at 20 ml per culture jar and autoclaved at 1.05 kg cm-2 and 121 °C for 18 minutes. Afterward, the sterilized explants were cultured on the prepared MS medium and incubated in the chamber at 25±2 °C and 16/8 hour of light/darkness cycles provided by LED white fluorescent.
Growth behavior and characteristics
Culture growth behavior and characteristics were recorded as follows:
The period of callus emergence (days) was recorded when the first callus emergence was observed in any replicate of each treatment (explant type).
Fresh callus weight was measured after four weeks of culturing (g).
Callus texture and color were observed after four weeks of culturing.
Shoots Number (shoots per explant) and length (cm) were measured after four weeks of culturing.
Experimental design and statistical analysis
The experiment was conducted in a complete randomized design (CRD) with ten replications for each treatment (explant type). Data were analyzed using Genstat software. Means were compared using Fisher's least significant difference test (LSD) at a probability level of 1%.
Results and Discussion
Callus induction
Callus was induced in all used explants except the floral buds that developed into small parthenocarpic fruits. This result agrees with the [24], who obtained parthenocarpic fruits from the floral buds. This observation could be attributed to the endogenous hormone content in floral buds and the exogenous plant growth regulators applied to the used MS medium, which led to ovaries enlargement [25][26].
Drastic differences in callus induction time were observed between the used explants. The shortest and longest callus induction periods were observed in shoot tips (8 days) and young leaves (21 days), respectively. The difference in the ability of callus induction and the duration of its formation in different explant types might be due to the different concentrations of plant hormones in these tissues since these hormones play a crucial role in cells differentiation and division that leads to the formation of new cells and induction of the callus tissue [8-10][22]. Furthermore, the used combination of auxin and cytokinin concentration may have promoted cell division and callus induction differently in the different tissues [6][27][28].
Significant differences were observed between the explants regarding the fresh weight of induced callus (Table 1). After four weeks of culturing, the highest fresh weight of callus was recorded in stem nodules (5.24g) and shoot tips (5.17g) explants, with no significant differences observed between the two sources. On the other hand, the internodes recorded the lowest fresh callus weight with 0.36g. These results were in agreement with the results previously reported in [29], which showed that the fresh weight of the stem nodules callus was higher compared to the callus induced by petiole culture. The texture of the induced callus from all explants in this study was white with a friable and granular texture, consistent with other reports [30].

Direct and indirect organogenesis
Shoot indirect organogenesis (from induced callus) was observed in shoot tips and stem nodules explants after four weeks of culturing (Fig. 1 B and C). On the other hand, no shoot formation was observed in internode, young leaves, and petiole explants at the same inspection date (Fig. 1 D, E, and F). The immature fruits were cultured on the same medium, leading to the regeneration of direct shoots after four weeks of culturing (Fig. 1 H). This phenomenon can be attributed to the young fruit and medium content of plant growth regulators, which led to the stimulation of cell division and development on the outer surfaces of fruits into direct shoots. The type of organogenesis in the immature papaya fruits contradicted the result of [27], who reported that the young strawberry fruits only induced a callus under in vitro conditions.
The average number of indirect shoots induced from the shoot tips and stem nodules callus was 2.5 and 3.6 shoots per culture, respectively, while the direct shoots resulted from the floral buds, which developed into young fruits, were 22.1 shoots per explant (Table 2).
On the other hand, the average lengths of the indirect shoots regenerated from the shoot tips and stem nodules callus were 3.03 cm and 2.29 cm, respectively, while the shoots generated from the young fruit explants via direct organogenesis were 0.72 cm on average. These findings show a negative relationship between the length and prevalence of the generated shoots from each explant.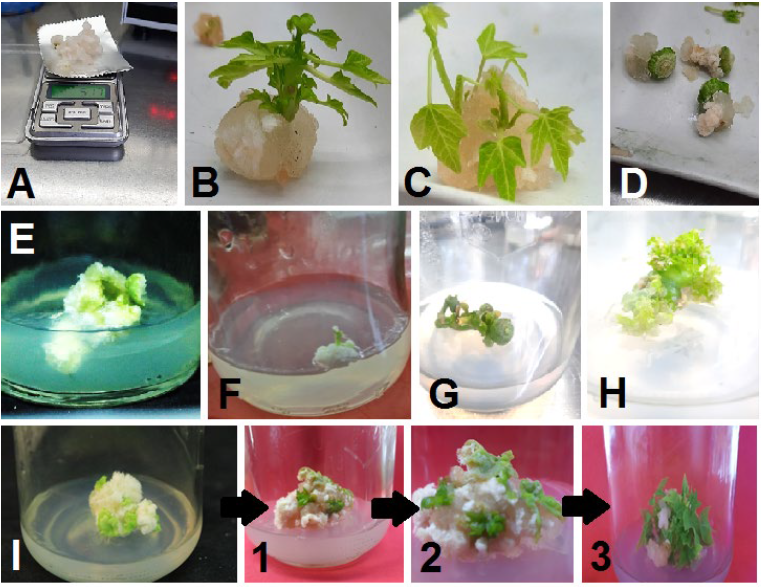 Conclusion
All explants of the hybrid papaya 'Red Lady' led to callus induction, except for the floral buds that developed into the parthenocarpy fruits. The shortest period of callus induction was observed in shoot tip explants, where callus formation was observed after eight days of culturing. The highest fresh callus weight after four weeks of culture was obtained from the shoot tips and the stem nodules. Indirect shoot organogenesis was recorded from the callus of shoot tips and stem nodules explants after four weeks of culturing, while the immature young fruits regenerated direct shoots without callus induction.